SMOGGIE-CO2 is an automated, fixed, CO2 monitoring device. It has Wifi connectivity to report the air quality measurements in real time. Runs on 5V, powered by a standard micro-USB cable. It shows indications via coloured RGB LED and the data history can be viewed remotely on a computer or on a mobile device.
| | | | |
| --- | --- | --- | --- |
| Sensor | Parameter | Minimum value | Maximum value |
| MEMs | Temperature | -40 °C | +85 °C |
| | Humidity | 0% RH | 100% RH |
| NDIR CO2 Sensor | CO2 | 400 ppm | 5000 ppm |
To see complete specs see the technical datasheet.
Carbon dioxide
is a gas heavier than air. In small quantities of up to 5000ppm (0.5% ) can cause headaches, lethargy, slowing of intellectual ability, irritability, sleep disturbance. In larger quantities can cause dizziness, loss of sight, hearing or knowledge. The fresh air contains between 360ppm and 410 ppm of CO2 [1]
Carbon Dioxide is a contributing factor to the Sick building syndrome (SBS), a medical condition where people in a building suffer from symptoms of illness or feel unwell for no apparent reason. The symptoms tend to increase in severity with the time people spend in the building, and improve over time or even disappear when people are away from the building. The main identifying observation is an increased incidence of complaints of symptoms such as headache, eye, nose, and throat irritation, fatigue, and dizziness and nausea. These symptoms appear to be linked to time spent in a building, though no specific illness or cause can be identified. A 1984 World Health Organization (WHO) report suggested up to 30% of new and remodeled buildings worldwide may be subject of complaints related to poor indoor air quality.
In homes and offices:
A 100 ppm increase in indoor CO2 concentration was significantly associated with headache (..). Office workers exposed to indoor CO2 concentrations higher than 800 ppm reported a significant increase in eye irritation and upper respiratory symptoms . A 100 ppm increase in dCO2 in the range from 467 to 2800 ppm in indoor CO2 was significantly associated with dry throat, tiredness, and dizziness (417 participants from 87 offices) (Lu et al., 2015). A 100 ppm increase in CO2 concentration (range, 549–1318 ppm) was positively correlated with non-specific symptoms including headache and dizziness (107 participants from 11 offices) although the correlation was not significant (Azuma et al., 2018).
Twenty-two participants were exposed to CO2 at 600, 1000, and 2500 ppm (three 2.5-h sessions, one day; artificially elevated CO2 concentrations) in an office-like chamber. Statistically significant decrements occurred in cognitive performance (decision making, problem resolution) starting at 1000 ppm (Satish et al., 2012).
Picture: SMOGGIE-CO2 monitors your home to improve your health
In schools:
A study in schoolchildren exposed to indoor CO2 concentrations higher than 1000 ppm showed significantly higher risk for dry cough and rhinitis (654 children of 46 classrooms) but outdoor air flow rate per person was inversely correlated with indoor CO2 concentrations (Simoni et al., 2010). A 200 ppm increase in indoor CO2 concentration (range, 1000–2000 ppm) in 45 day care centers (DCCs) was significantly associated with reported wheezing in the 3186 attending children, and a positive trend was observed between CO2 concentration and the prevalence of asthma.
[1]
Effects of low-level inhalation exposure to carbon dioxide in indoor environments
SMOGGIE-CO2 is designed as an automated, fixed, Air Quality monitoring station that measures and reports the Carbon Dioxide concentration automatically, 24/7. It comes with built-in Wifi connectivity and it only needs 5V to run, supplied via a standard micro-USB cable. It will monitor your location 24/7 to inform you on elevated CO2 levels that can impact your health.
The units can be managed via
the dashboard
. The data can be viewed remotely
on a computer
or
on a mobile device
.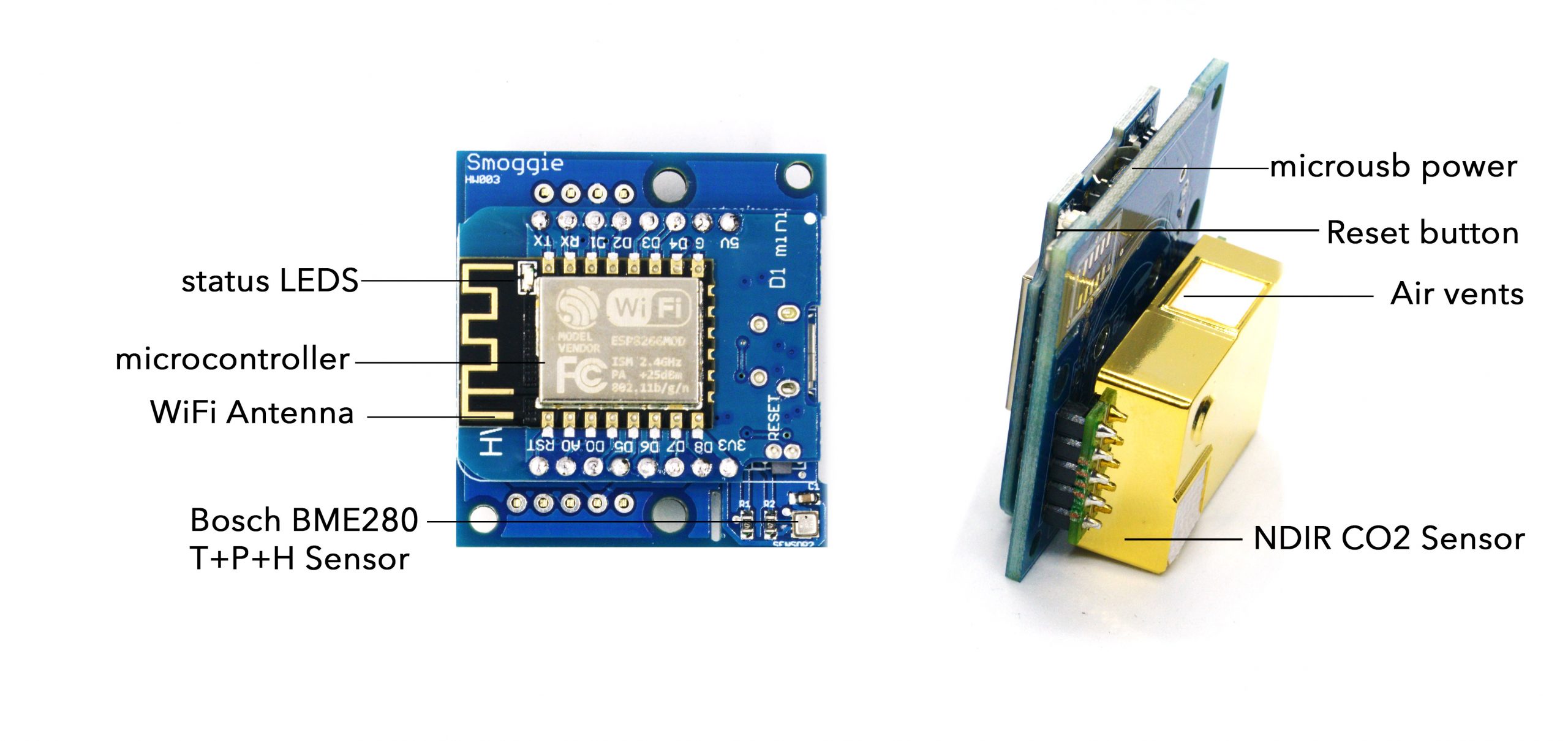 Picture: uRADMonitor SMOGGIE motherboard and enclosure
| | | |
| --- | --- | --- |
| Item | Parameter | Ratings |
| Voltage | External | 5V micro-USB |
| Consumption | Current | 80mA (max 170mA on CO2 pulse) |
| Connectivity | Internet | Wifi |
| Microcontroller | ESP8266 | 8 bit |
| Enclosure | Rainproof plastic | 42x43x27 mm |
Your uRADMonitor unit can be mounted both indoors and outdoors where the enclosure offers protection against sun, rain or snow. The unit has a plastic enclosure with two holes and can be easily attached to a wall with only two screws. The sensor opening must face down for open air access. Make sure that nothing is blocking the air vents. The openings and the internal heating of the electronics are aligned to generate an active airflow.
Quick Setup
Connect it to power using a 5V micro-USB cable. Use a smartphone or a computer with WLAN capabilities to connect to the local hotspot spawned by your SMOGGIE unit. The SSID is uRADMonitor-XX, where XX are the last two digits of the Device ID number. The first time, the key is the Device ID, in uppercase, as printed on the enclosure. You can change this key later. Open 192.168.4.1 in your browser, and click the "WIFI/CONFIG" link to setup the connection to the Internet AP. Select the SSID and enter the key of your Internet Access Point.

Picture: SMOGGIE Config Page
If the connection fails, you will see the status message.
USB configuration
Alternatively, the SSID and KEY can also be configured via USB. Connect to your SMOGGIE via USB, baudrate 9600bps, open a terminal program and type the two commands: "key1","SSID" then "key2","your WLAN key" . Use the "getsettings" command to verify that the new settings are in place. Quotes are a must, and there are no spaces in between. See the USB Commands manual for more. See the USB Commands manual if you need more help.