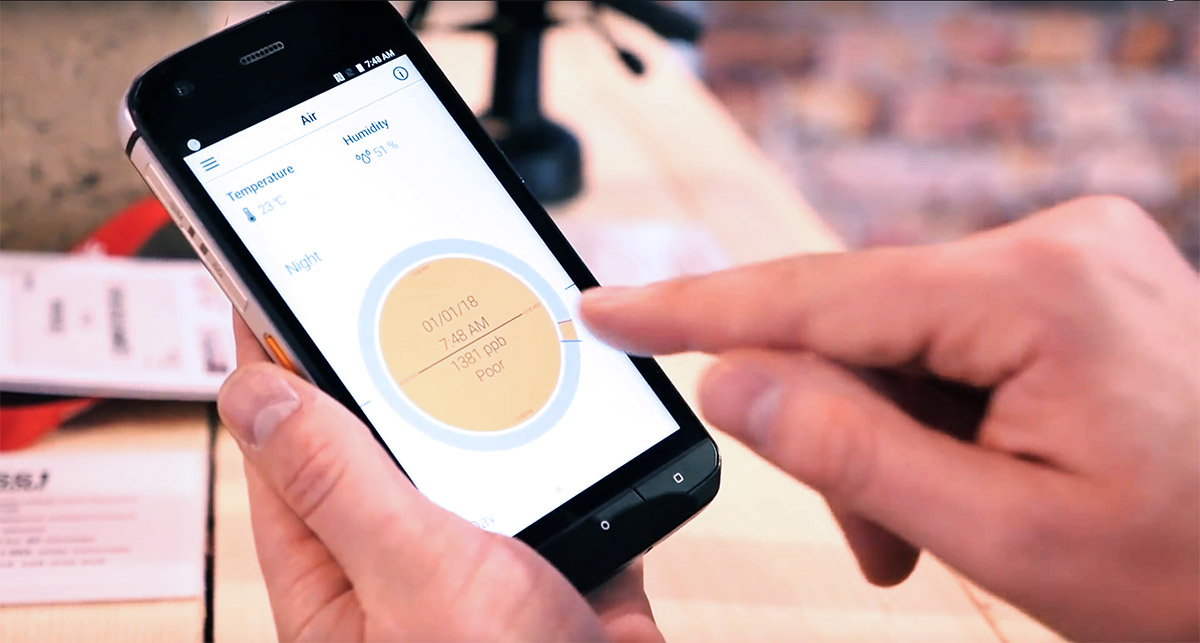 Caterpillar Inc., a world-renowned manufacturer of construction machinery and mining equipment, recently anounced the S61 – a smartphone equiped with a VOC sensor (volatile organic compounds), making it the world's first mobile phone capable of detecting toxic chemicals in the air.

S61 Smartphone Air quality history data
The smartphone was presented at the
Mobile World Congress 2018
in Barcelona. Besides the intriguing air quality detection capabilities, the S61 is equipped with a high definition thermal imaging camera and enhanced image contrast software the temperature interval goes up to 400 degrees Celsius. It also has a laser distance measuring tool that goes up to 10 meters. The software can then automatically calculate area and make conversions. All data is stored in the image.
Sensirion Multi-Pixel Gas Sensor SGP
The S61 has a built-in gas sensor manufactured by Sensirion, that detects air quality by measuring volatile organic compounds (VOC). Common sources of VOC's include paints, solvents, carpets, furniture and cleaning products, all common in the environments typical to Cat phone users. If the contaminants concentration exceeds the health limit, the mobile phone will issue a warning reminding the user to open the window for ventilation or go out for a while. The sensor can also provide humidity and current temperature readings.

Sensirion SGPC10 sensor
The Sensirion multi-pixel gas sensor platform SGP creates new possibilities for the measurement of indoor air quality. The SGP offers a complete gas sensor system integrated into a very small package featuring an I2C interface and fully calibrated air quality output signals with unique long-term stability and accuracy. The SGP further combines multiple metal-oxide sensing elements − the pixels – on one chip to provide more detailed air quality signals. The unprecedented combination of long-term stability and multi-pixel technology makes the SGP a perfect choice for indoor air quality monitoring in mobile, smart home and appliance applications.
Sensirion VOC sensors and specs
Notes:
*1 CO2eq output is based on a hydrogen measurement. The SGP is not suited for applications where real CO2 detection is required.
*2 To use the humidity compensation feature of the SGP30 an additional humidity sensor like the SHTxx is required.
There are
certain limitations
in using this technology to measure air quality or to determine absolute concentration readings for various substances in the air. Read
more here
.
Specs and price range
Rugged phone, IP68 certified (dust/water proof over 3 meters and 60 minutes), Drop-to-concrete resistance up to 1.8 m, MIL-STD-810G compliant, 5.2inch display Corning Gorilla Glass 5.
It runs Android 8.0, on a Qualcomm SDM630 Snapdragon 630 chipset holding a Octa-core 2.2 GHz Cortex-A53 CPU. There's an external micro-SD slot.
The main camera is 16 MP, with phase detection autofocus and dual-LED dual-tone flash.
It supports GLONASS for enhanced positioning capabilities and also has an FM Tuner for Radio. The battery is 4500mAh and it is non removable.
The price tag is set to about 1100 USD (or 900EUR).
Use cases
The new phone's use cases include vehicle diagnostics, monitoring of equipment that runs at high temperatures, and monitoring of asphalt. The Cat S61 can even help detect how much heat is lost around doors and windows and is able to identify places where insulation is missing. It can even detect moisture where the human eye might miss it and spot appliances that are overheating and circuits that are overloaded. The phone can even see in total darkness, smoke or fog. But above all, there's finally a mobile phone that sense air everywhere the users goes.